Will Kia Nurse light up the Chicago Sky? Will Serena Williams continue CRUISING in Paris?
The 4%...It's what's on TV.
Dancing into a weekend full of women's sports!
WTA French Open
The French Open continues this weekend as players slide into the third round of the tournament. It's been a wild ride so far with the early elimination of Bianca Andreescu, the retirement of Ashleigh Barty and of course, the withdrawal of Naomi Osaka. 
BUT the tournament will go on and some of the top players in the world will compete for the title. 
It's clear (to me at least) that Serena Williams is absolutely lighting it up. But clay has always been her toughest surface, giving her opponents the opportunity to chase down balls they may have missed on faster hard courts or grass. 
I don't think it'll be an easy run for Williams but this could be her year for a FOURTH French Open win. We'll have to see what happens this morning in her third round match against Danielle Collins.
Which of the two Americans will secure a spot in the fourth round of the French Open? I'm expecting fireworks here… it could really end up being a clash of the titans.
On the doubles side of things, Gaby Dabrowski and Leylah Fernandez have secured a spot in the second round! The Canadians will play on Saturday against Ellen Perez and Zheng Saisai.
Check out the WTA French Open all weekend on TSN and TVA Sports!
---
LPGA U.S. Women's Open
This weekend the second LPGA major of the season will be played out. The Olympic Club in San Francisco will host the world's best female golfers as they compete in the U.S. Women's Open!
The field of 156 players will battle for the coveted title of U.S. Open champion and the largest purse in women's golf history, a whopping $5.5 million!
It's hard to predict who will win this year's title but I'm rooting for Canadian, Brooke Henderson to bring it home (duhhhh). People I'm looking out for though include the reigning champ, Kim A-lim of South Korea, the Korda sisters, Mel Reid, Kim Sei-young and Lydia Ko. 
More on Henderson… her mental strength and veteran experience at U.S. Women's Opens will prove her well this weekend. Not to mention, her 10 wins on the LPGA Tour, including her most recent victory at this year's Hugel-Air Premia LA Open.
Tune in to the LPGA U.S. Open this weekend on TSN and the Golf Channel!
---
Women's Volleyball Nations League on CBC 
The Canadian women's volleyball team is on FIRE with two wins in a row at the Volleyball Nations League event in Rimini, Italy. 
They may have struggled early on in the event but the Canadians are looking confident after their wins against China and Germany. 
#VNL
#GERvsCAN
0-3 (28-30, 25-27, 14-25) A bit of slow start today after two five-set contests, but this was a decisive victory for
@canwvnt
👏👏👏 👉Stats & more:
bit.ly/3vO8MVI
Catch all the 🇨🇦 matches
@cbcsports
online.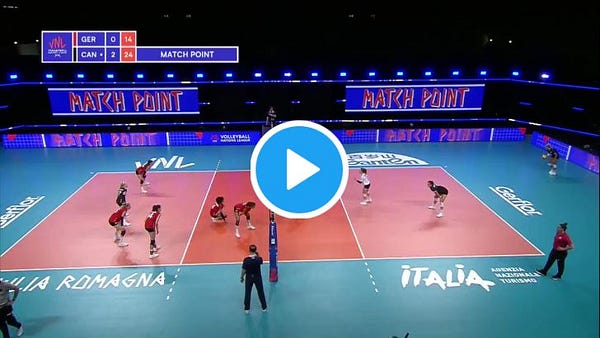 The tournament consists of 12 core teams  as well as 4 additional challengers . The women's core teams include Brazil, China, Germany, Italy, Japan, Korea, Netherlands, Russia, Serbia, Thailand, Turkey and USA. The challenger teams are Belgium, the Dominican Republic, Poland and Canada. 
The Canadian women's squad hits the court again on Sunday at 11:45am ET against Poland. Get in on the action and tune in, on CBC Sports!
---
NWSL
The 24-game regular season is well underway as teams continue to climb in the standings after some midweek action. 
Five games on the docket this weekend:
Chicago Red Stars vs. North Carolina Courage - Saturday at 2pm ET

Gotham FC vs. OL Reign - Saturday at 7pm ET

Portland Thorns vs. Racing Louisville FC - Saturday at 10:30pm ET

Kansas City vs. Houston Dash - Sunday at 2pm ET

Washington Spirit vs. Orlando Pride - Sunday at 2pm ET
The Orlando Pride are undefeated in the first four matches of the regular season. It's an impressive start for an Orlando side that has struggled in previous seasons, and veteran strikers Sydney Leroux and Alex Morgan are helping to set the tone. 
Clearly well earned based on her performance so far, Alex Morgan has been named the NWSL player of the month! The two-time FIFA World Cup champion is the Pride's leading goal scorer, tallying a goal in each game so far. Morgan is the first player in league history to tally a finish in each of the first four matches of a campaign. 
Check out this weekend's NWSL matches on Saturday and Sunday on Twitch!
---
WNBA
OKAY, Kia Nurse's game winner against the Chicago Sky… I'm speechless! A three-point buzzer beater is one thing but pulling up at half-court to win the game? Absolutely fantastic. I'm in awe of the Canadian queen.
Beyond that headliner, there's been a lot going on in the first few weeks of the season. We've seen the debut of new teams, fast starts, slow starts, frustrating injuries, coaching changes and it's only June! 
I can't write about the WNBA without at least bringing up Sabrina Ionescu. She's been the talk of the league since game one and she doesn't seem to be slowing down. And three weeks after beating Indiana, the Liberty are sitting at the top of the league with one of the best records in the WNBA.
This season has been nothing but entertaining and I can't wait to tune in this weekend!
This weekend's games:
Dream vs. Lynx - Friday at 8pm ET

Wings vs. Storm - Friday at 10pm ET

Aces vs. Mystics - Saturday at 2pm ET

Sky vs. Sparks - Saturday at 7pm ET

Liberty vs. Sun - Saturday at 10:30pm ET

Wings vs. Storm - Sunday at 2pm ET

Dream vs. Lynx - Sunday at 2pm ET
Check out this weekend's WNBA games on Friday, Saturday and Sunday on ESPN or with the WNBA League Pass! 
---
Women's Sports on TV Guide
---
Why the 4%?
Only 4% of national airtime is devoted to women's sports. At The 4% our objective is to promote what, when, and where to watch women's sports to help raise awareness and grow the audience for women's sports on TV.